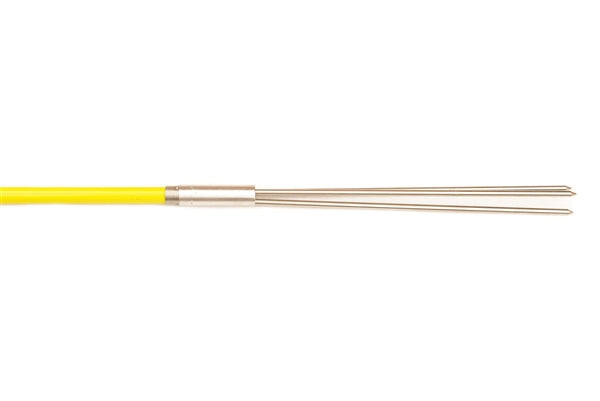 7ft Pole Spear w/ Grip and Barb Tip
---
o   Traditional style, single segment spear fishing pole in solid fiberglass
o   1/2 inch (1.27cm) shaft diameter
o   Integrated, stainless steel 3 prong paralyzer tip
o   Specially coated latex tubing sling adds power to your shot
o   6ft (1.83m) shaft, 1 ft (.3m)  tip, 7 feet (2.13m) total length
1/2 Inch Solid Fiberglass Pole Spear with Grip and Tip, 7 Ft is the simple, no nonsense spear for minimalist hunters who prefer to maintain the purity of the sport, trusting to skill more than fancy equipment.
The latex surgical tubing sling is coated to reduce the band's elasticity, conserving more potential energy in the band when it's pulled back in preparation to fire. When the hunter releases the spear, the additional, conserved energy is released, increasing forward momentum to add power to the shot.  
Single segment spear is constructed of solid fiberglass for strength with flexibility. Crimped on 3-prong paralyzer tip in corrosion-resistant stainless steel is perfect for wide bodied prey, and prey that tends to thrash on the spear.
Total length: 7 feet (2.13m)
Pole length: 6ft (1.83m)
Pole diameter: 1/2 inch (1.27cm)
Tip length: 1 ft (.3m)
---
Share this Product