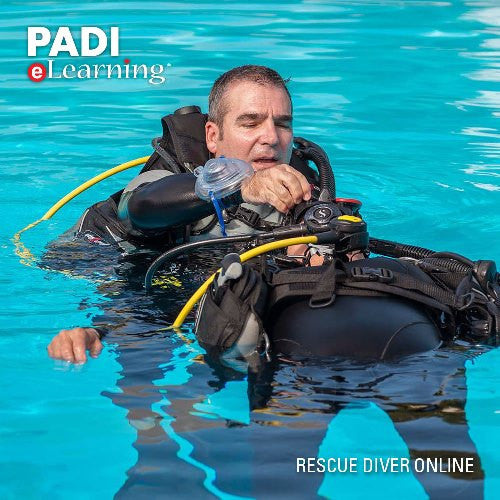 Rescue Diver eLearning - (Digital Certification Pak)
---
Includes Rescue Diver eLearning course in English and online PIC.
Code will appear in your Online Processing Center (accessed via the PADI Pro's Site) approximately one hour after purchase. Enter student email address, birthdate and phone number to the send eLearning access code to student. Preview the steps.
 
Overview of Changes to PADI eLearning (as of 1 January 2015):
PADI Members will now be able purchase eLearning programs via the Online Shopping Cart or through a PADI Sales Consultant at member pricing. This replaces the old process where PADI Members could only purchase PADI eLearning for resale to their students by buying an eLearning Gift Pass. This also means that a revenue share no longer needs to be returned to PADI Dive Centers and Resorts purchasing eLearning. eLearning purchases made by the consumer via PADI.com or the eLearning link on a store website will continue to include a revenue share for PADI Dive Centers and Resorts (excludes certification processing fee).
Also, most PADI eLearning program and eLearning Gift Pass purchases now include the certification processing fee to streamline and simplify the referral process (exceptions are Dive Theory Online, Scuba Tune-up, Divemaster Online and Instructor Development Course Online). Including the processing fee in a student's digital product purchase also helps members save on PIC purchases and inventory costs.
Last, Open Water Diver Online (eLearning) and the Open Water Diver Gift Pass are now offered only as part of the Premium Digital Certification Pak Online. Open Water Diver Online (eLearning) is no longer available à la carte to members or consumers. By bundling all Open Water Diver course materials into a single digital certification pak, students now have much more flexibility throughout the course. PADI Dive Centers and Resorts also benefit because they only have to purchase one digital certification pak for their students rather than managing and stocking individual tools and components.
---
Share this Product
---
More from this collection